Enjoy Lawn Games with Wayfair!
#Wayfair #Sponsored
Now that Spring is finally here…well almost here in the mountains of AZ.  It was about 35° here last night, so old man Winter just doesn't really want to go away.  Other than that, the days are wonderful and it's finally time to start planning on enjoying time outside.  We recently purchased a gazebo for our backyard and wanted to put some things around for when friends come over, so that we could play and have a great time.  I've been wanting to get a cornhole set for some time now, and figured that this would be the perfect time to just make my own.  Being able to have something that we can take with us when we go out camping, or racing with the RZR, I figured would be a lot of fun.
The project took a bit longer than I thought it would.  Best part, though, is that I got to personalize it to go with our family, instead of the ones that are just basic, or focused on football, etc.  I chose the "Speed Limit 55" so that it would go well when we're out at the cruises with our '55 Chevy.  We could just toss it in the bed of the truck and have a game that goes with us! It was pretty fun for me to make, even though I had to ask for some help from my hubby! 🙂
I sure hope that you like it!! I hope you have a blessed day, and please be sure to comment and share this craft on your social media channels – thanks so much!!
Play some @Wayfair #lawngames with your #family Great way to spend time together! Click To Tweet
Make Your Own Cornhole Set
Materials/Tools Used:
Lumber

Nails/Screws

Tools

Paint

Bean Bag Set

& Time!
Instructions for the Cornhole Set:
I started by heading to the local hardware store to buy the lumber and other things that I didn't already have at home.  My little SUV did a great job getting all of this home.  Luckily, the sweet guy at the store was able to cut the large piece of plywood in half for me (which they often will do), so it fit in a lot easier.
I starting working on cutting the large 2×4 pieces into the sizes that I would need, based on the plans.
After all of the cuts were made, I was ready to go.
With help from my amazing husband, we got the pieces set up square to make the base for the game board.  Using a square, we set it up even and then screwed the pieces together to secure.
When that was all done (for both pieces), we attached the pieces of plywood to the top.  Using an old-school compass, I made the regulation 6″ hole at the top of each piece.  My husband used a large drill bit to made a hole, and then his jigsaw to cut the pieces out of the top.
We then cut the leg pieces, that are attached by screws to be able to adjust them to play mode for on the lawn or driveway, and then into a storage position.  This makes them easy to flatten out and store, when not in use.
When everything was cut out, I started filling in the holes that were made from using the hole saw drill bit to better hide the screw heads.  You just have to use a bit of wood filler, let it dry and then sand it.  It took a couple of times to be completely finished.
Next, I started the good old painting process.  I decided on using white for the main piece, since I was going for the street sign look.  It took a couple of coats, but didn't take too long.
I then used my Cricut to make up some stencils for the wording on the front.
Attaching the stencils in the correct position with painter's tape, I then used black paint with a foam brush to complete the details.  I pulled the pieces off and let the letters/numbers dry a bit, before doing some touch-up.
After that, you can just put the legs in the regulation "play" position, and enjoy the fun!  It's a great game for family time, camping or just having on the backyard lawn for a break from the daily grind during the evening.
I hope you like it!  Please take a minute to leave me a comment.  Let me know what you would do different, or what you would add, etc.  Be sure to tweet, pin, share, etc. – thanks!!
---
"Everyone who competes in the games goes into strict training. They do it to get a crown that will not last, but we do it to get a crown that will last forever." –1 Corinthians 9:25
---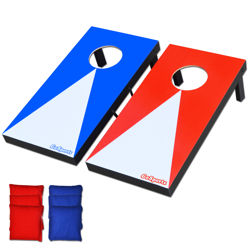 See More All Lawn Games
---
About The Company:
Wayfair offers a zillion things home. With one of the world's largest online selections of furniture, home furnishings, décor and goods, including more than seven million products from over 7,000 suppliers, Wayfair helps people find the perfect product at the right price. Our extensive selection and superior customer service coupled with the convenience of online shopping, make it easier than ever before to find exactly what you want for your home at a price you can afford. Our culture: Wayfair is a rapidly growing company with a variety of career opportunities.We offer employees exciting work in a fun, dynamic environment that encourages learning and growth.
---
Connect With Wayfair – The Lawn Game Champs:
PLEASE SHARE THIS POST USING THE OPTIONS BELOW…THANKS!!
All pictures and text are my own and have not been copied in any way.  I, Jamie Tomkins, own and operate Tiger Strypes Blog located at www.TigerStrypes.com. From time to time you'll hear about my real life experiences or creations with products and/or services from companies and individuals. Let it be known that I have no affiliation with these said companies, and have not received compensation for reviewing or using their service/product. The information that I give regarding the product/service is based off my own personal experience, I do not guarantee that your experience will be the same.