Thank you USFamilyGuide for partnering with me on this blog post! 
I was not financially compensated for this post. I received a comp tickets for review purposes. The opinions are completely my own based on my experience.
The NEW @medievaltimes in Scottsdale is amazing! #MTCelebrate #MTFan #USFG Find out more at
Click To Tweet

We Had a Great Time at Medieval Times in Scottsdale
#MTCelebrate #MTFan #USFG
Recently, I posted about going to Medieval Times years ago with my husband. Well, we finally got to go again!  A big thanks to America's Family Network, USFamilyGuide and Medieval Times Dinner & Tournament in Scottsdale for the amazing weekend that we had!
We arrived in Scottsdale on Saturday morning, after about a three hour drive from our mountain town.  I was thankful that we went in January, since we didn't have to deal with too much heat, but 70 sure feels warm after being in the 30's and 40's for so long!  My husband had found a great deal on a place to stay, called the Scottsdale Villa Mirage.  They were condos on the vacation rental site that slept 8.  Figuring we were going with my in-laws, our son & his girlfriend, plus my husband and I, it was easier than booking three hotel rooms and actually cost a bit less.   We checked in and were amazed at how everything looked.  If I'm ever in the area again, I'll definitely try to stay another time!  Here are some photos of the condo:​
This place was amazing.  If you're in the area, check out Scottsdale Villa Mirage.
After checking in to the condo, and enjoying the area for a few hours, we headed out toward Medieval Times (we heard Dad call it "the Chicken Place," and died laughing), which was only a few miles from where we were staying.  The parking lot was packed! We got there an hour and a half early, but we thought we were late.  It turned out, that they had 3 shows that day, and the other one was still in there.  Whew, that was close!
I had to take a photo in the parking lot.  Aren't the Arizona sunsets amazing:
Okay, it's time to go in…
Being that we did end up getting there early, we were able to upgrade our tickets, pay a bit extra and have closer seats, banners to wave and VIP badges.  It was so much fun!!
We enjoyed the huge entry hall, with the gift shops and bar…which had drinks that were huge!  My husband ordered me a Sangria, in a collector glass.  It turned out to be filled with the whole bottle!!  That was some good stuff!
The place really started to fill up with a lot of people, different ages, and different teams.  Everyone was super friendly, too.  I got to talk to a lady that was 91 years old, and in the area part time from Idaho…what a sweetheart!
About 10 minutes before 7:00 pm, they started calling in the teams…we were there to salute the "Red Knight."  Getting to our seats, after walking down some steep steps, we had to sit really close to one another.  Be sure you like who you're going with. 🙂  We were blessed to sit in the second row of our Red Knight team, and had an amazing view of everything going on.  The event started up with an beautiful light show, with fog machines in the center, that filled the whole arena.  I want some machines, like they had – it was awesome!!  Here are some photos of inside:
Once the welcome had finished, the festivities began.  We had beautiful horses that did amazing tricks, riders that jousted and fought with swords (that made sparks, which was cool), and so much more.  We were rooting for our Red Knight to win the tournament!
As the events were happening, we were served with dinner.  Tomato soup, garlic bread, chicken, corn & a potato.  All of this, you had to eat with your hands, since it was Medieval Times, after all.  It cracked me up to see some with plastic forks around us…they had obviously been there before, and didn't want their hands dirty! ha/ha  Everything was delicious.  When dinner was done, we got a cup of ice cream and a wooden spoon.  That actually made us feel spoiled! 🙂  The evening ended with one of the other knights winning, but we all had an amazing time.  It's definitely somewhere that I would love to go again, and bring others to enjoy it.  The customer service is amazing, the food was great and the animals seem to be treated very well, which made me even happier.
Again a huge thanks to America's Family Network, USFamilyGuide and Medieval Times Dinner & Tournament in Scottsdale for the amazing weekend.  We would definitely recommend it to anyone who loves a fun time with family and/or friends!
---
Medieval Times video:
Audiences of all ages gather to cheer for their knight at Medieval Times at the newest castle location in Scottsdale! Set inside an 11th-century style castle, the two-hour action-packed tournament begins. Cheer for your knight as he competes to be named Champion of the Realm. Dine on a "hands-on" four-course feast and witness authentic jousting, sword fighting, and medieval games of skill. Watch in awe as magnificent Andalusian stallions perform the beautiful art of dressage and a rare falcon takes flight above the Grand Arena.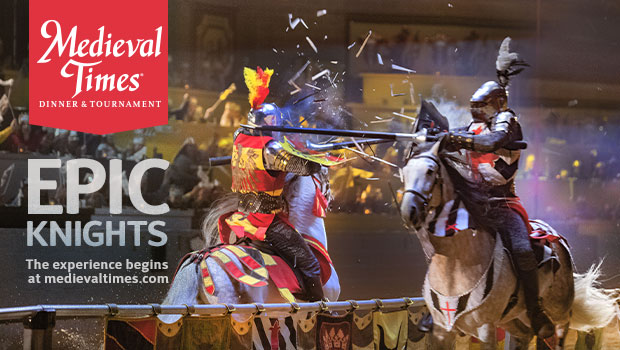 About Medieval Times: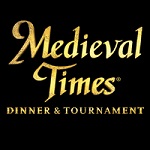 Travel through the mists of time to a forgotten age and a tale of devotion, courage and love—at Medieval Times Dinner & Tournament. Imagine the pageantry and excitement that would have been yours as a guest of the royal court ten centuries ago. That's exactly what you will experience at North America's most popular dinner attraction. See our electrifying show featuring heroic knights on spirited horses displaying the astounding athletic feats and thrilling swordplay that have become hallmarks of this unique entertainment experience. Enjoy a "hands-on" feast as the dynamic performance unfolds before you. A sweeping musical score and brilliant lights provide a fabulous backdrop for this spellbinding experience that blurs the boundary between fairy tale and spectacle!
For showtimes or tickets for any castle visit http://www.medievaltimes.com/ or call 1-888-WE-JOUST
About USFamilyGuide:
USFamilyGuide.com is the world's largest network of online family media. The network encompasses over 450 local family guides and 2,798 local mom bloggers reaching parents in your markets through all online and social media platforms. US Family Guide provides a single resource for all your family needs. Plan family vacations and activities, find kid-friendly restaurants, remain informed of local family events, clip on-line coupons, blog with other parents, and more Reaching over 500 major cities covering every state!  Their mission is to provide the most in-depth online family guide in the nation while also providing an online resource for parents looking for camps for their children, coupon savings for a night on the town and fun family events and activities!

---
Connect With Medieval Times:
**********************************************************
Disclaimer: I, Jamie Tomkins, own and operate TigerStrypes Blog located at www.tigerstrypes.com. From time to time you'll hear about my real life experiences with products and/or services from companies and individuals. Let it be known that I have an affiliation with these said companies, and have not received compensation for reviewing their service/product, only free admission was given to me by the company or any agents of the company. The review that I give regarding the product/service is based off my own personal experience; I do not guarantee that your experience will be the same.